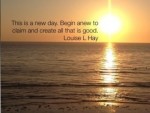 We are thrilled to be offering classes 7 days a week all year round in the serene and spacious loft at Bartlett's Farm.
A brand new beginners yoga series starts January 27.
A new year offers us the wonderful gift of starting over. Clearing the slate and letting go of all the things that no longer serve us. Take the opportunity to let go of the past quite literally by letting go of 2013.
Once you have let go you will find some space to be still. In this stillness connect to the voice of your intuition and listen. It knows exactly what to do. Let your intuition guide you to set your intentions for 2014.