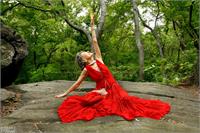 Saturday, September 17, 10:00 am-12:30pm
Explore The Body As Energy
Join us as we host this inspiring 98-years-young yoga grand master and explore the eternal energy of yoga. Tao will be integrating breath and movement, and sharing with us the experience of her "yoga tango." Using the four pillars of yoga: pranayama (breathwork), mudras (gestures), bandhas (energetic locks) and chakras (energy centers) we will explore the rich potential of the body to renew, heal and revitalize.
Tao will lead the students through a deeply absorbing meditation, inspiring deep compassion and inner peace.
Saturday, September 17, 2:00 pm -4:00pm
Conversation With A Master
Conversation with a Master: An Afternoon with 98-year-old Tao Porchon-Lynch has been a hit with audiences around the world. Be enthralled by Tao's journey on multiple continents as a World War II French Resistance fighter, actress, model, producer, and entrepreneur, while you learn her approach to overcoming obstacles and living mindfully. This guided conversation and multimedia slideshow is moderated by Tao's student and biographer, Teresa Kay-Aba Kennedy–Harvard Business School-trained strategist, yoga teacher and wellness empowerment coach
Hear first-hand stories about historical icons such as Mahatma Gandhi, General Charles de Gaulle, Ernest Hemingway, Coco Chanel, Marilyn Monroe, Marlene Dietrich, the Maharishi and others.
Explore concepts such as Oneness and mindfulness, and gain insights on topics such as mental attitude, follow-through/procrastination, and dealing with disappointments.
Learn Tao's "secrets" to vitality and boundless energy, and experience her special meditation.
Have the opportunity to ask questions only hindsight and living history can answer.
You will walk away inspired and informed–ready to craft a fearless and fulfilled "Tao-like" life!
Sunday September 18, 9:00 am-11:30 am
The Eternal Energy of Yoga: Understanding the Chakras: Integrating Breath and Movement
Join us as we focus on understanding the chakras and integrating the bandhas, breath and movement.
Become aware of and learn to control the energy that invigorates your life. Utilize various breathing techniques when doing the postures while attaining knowledge of your body's energy centers.
This workshop will allow you to witness first hand, the amazing power a dedicated yoga practice has to improve and increase the vitality of your life.
Tao will lead the students through a deeply absorbing meditation, inspiring deep compassion and inner peace.
Three Workshops, Full Weekend immersion with Tao: $195.  As space is extremely limited once purchased this workshop is non refundable.

Stay tuned for more upcoming retreats.
Retreat Interest Form