Note: Aerial yoga classes are on hold until summer 2022.
Aerial Yoga Classes
Unnata Yoga offers authentic yoga with the support of a soft, aerial fabric hammock to explore, refine and advance traditional asana, both in the air and on the ground.
In an Unnata class, you'll relax and realign the body, center the mind and uplift the spirit. Your teacher will guide you to experience physical release, refined strength, energetic flow, and awareness of breath, body and bandhas. Supported by the hammock, you'll let go into gravity, deepen your practice, and awaken a "yogic high."
Unnata Aerial Yoga was born of founder Michelle Dortignac's 20+ years of yogic teaching, meditation practice, and movement and aerial arts performance.
The swing can provide:
A fun & freeing experience.
Strong Support in challenging postures involving balance and focus.
Decompression of the Spine.
A release of built up tension.
A test of patience and trust.
An increase in strength & flexibility.
Aerial Yoga is truly a complete mind, body, spirit experience.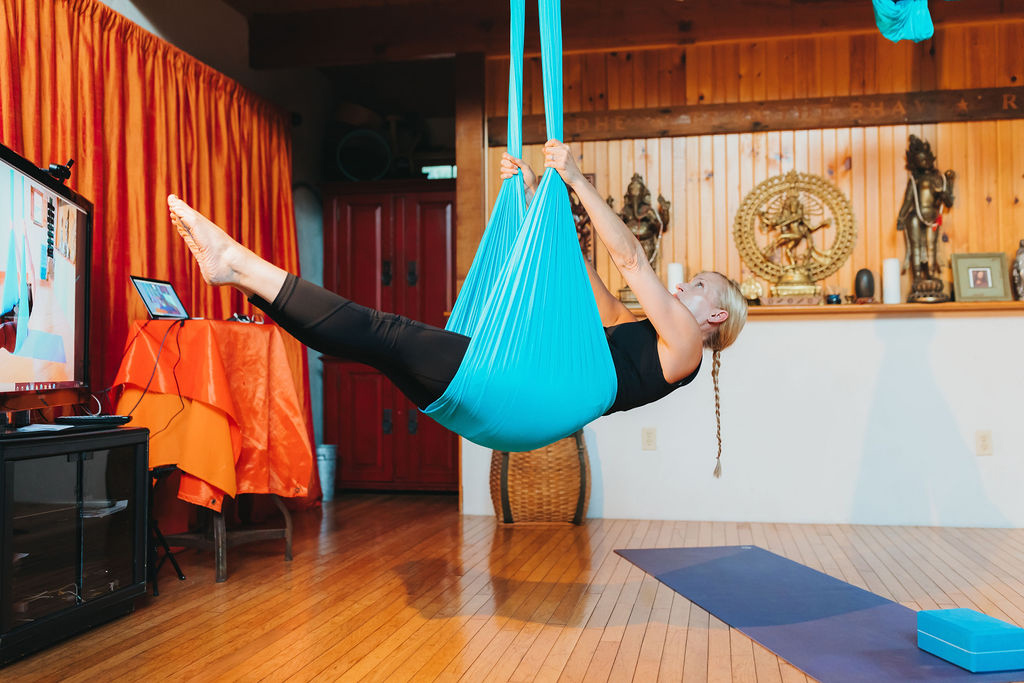 Aerial Yoga
In this class we will get to know our swing. Beginner students often leave saying, "I felt like a kid on the playground again!" In this class we incorporate the swing to include traditional yoga poses with deep stretching and balancing as well as flying, cannonball swinging, and inversions (hanging upside down) to lengthen the spine & release the mind. Working on the swing can be a blissful experience. We encourage you to channel your inner 6 year old.
Restorative Aerial Yoga
This class will utilize the most supportive and versatile prop there is...our yoga swing. All postures will utilize the aerial swing to support the body in addition to blocks, bolsters, and blankets to eliminate unnecessary straining to create a very relaxing & meditative practice. Emphasis will be placed on melting your body into each pose to release tension and release stored stress. This practice is suitable for all including absolute beginners.
E-MAIL: info@dharmayoganantucket.com
PHONE: 508-901-1355
Location
Aerial Yoga takes place in YogaBarn located mid island 1 mile from Bartlett's Farm 81 Somerset Road Nantucket MA 02554.