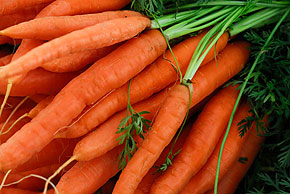 It's summertime and the livin' is easy……… It wouldn't be summer without hot dogs and hamburgers right? No, not your traditional variety
something a littler fresher, a little healthier, and so much more delicious: Carrot Dogs. I must confess,these are not my invention. I tasted my first dog almost 5 years ago in the Brooklyn backyard of my dear friends Kristina and John. These were John's specialty and I have to say they have haunted me ever since. So hot dog like (but in a good way) and so easy. John generously shared his recipe which I think originated at a place called Mr M's pub in Omaha Nebraska. It isn't a crunchy veggie place just a regular pub that happens to have carrot dogs on the menu.
Seeing these on a traditional menu is one of those things that makes my heart sing. I have tweaked the marinade a bit, so that it has just the right amount of salty and spicy. One of my favorite ways to have these is with homemade sauerkraut and mustard. Yum. They can be grilled or not it is up to you but it IS summer after all, so fire up the barbie while you can and enjoy this happier healthier dog.
Carrot Dogs
6 medium sized carrots, with the ends cut off
Marinade:
Whisk together
1 cup Nama Shoyu (available at most health food stores) you can sub low sodium soy sauce if Nama Shoyu is not available
1 cup water
1/2 cup rice vinegar
1/4 cup sesame oil
1 tbsp grated fresh ginger
1 clove of minced fresh garlic
Directions:
Steam the carrots until they are tender; you should be able to pierce them with a fork.
They should be cooked through but still be a little "al dente"
When tender, drain the carrots and place in an ice bath. Drain again.
Transfer the carrots to a glass storage container. Pour the marinade over the carrots and refrigerate. 4-6 hours or overnight is best.
Remove from marinade and serve, or place on grill for about one minute.