Do you have a craving for something chocolatey, gooey and delicious?  These raw brownies are sure to satisfy your sweet tooth. They are in a word, Yum.  Use this recipe as a starting point.  Add in flavors that make you happy like shredded coconut or dried cherries.  Be creative and make this one your own.  Happy unbaking.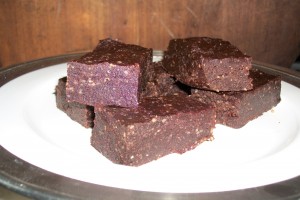 The Best Brownies Ever
12 oz walnuts (preferably soaked and dehydrated)
12 organic medjool dates (pitted)
1 heaping teaspoon Yacon powder
1 heaping teaspoon Lucuma powder
2 vanilla beans ( or 2 tablespoons of pure vanilla extract)
5 heaping tablespoons of Raw Cacao powder
Pulse walnuts in a food processor until finely groundAdd dates and process until well combined
Add remaining ingredients and process until well combined
*the mixture should be tacky and have a dough like consistenc
Press the mixture into a 9 x 9 glass pan
Cover and refrigerate for at least one hour or overnight
Remove from the refrigerator and cut into individual brownies
A note about soaking and dehydrating:
Nuts that have not been soaked contain enzyme inhibitors that can cause uncomfortable digestion. Once they are soaked  they are much easier to digest and their nutrients are easier to assimilate.  This is the optimal way to eat nuts, however if you are pressed for time or don't have a dehydrator, it is perfectly okay to use unsoaked walnuts in this recipe!
Soaking and Dehydrating Nuts:
Place Nuts in a large bowl and cover with water
Let soak overnight.  Rinse well.
Drain and dehydrate at a temperature no higher than 130 degrees until completely dry (about 12 hours depending on the nut)
For more info on Yacon and Lucuma go to:
http://www.navitasnaturals.com/