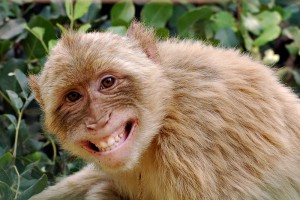 We all want to be happy. To LIVE happy lives. In Yoga we commonly refer to the negative thoughts that distract us from our happiness as "the monkey mind". This monkey mind is preoccupied by worry, insecurity, greed, rage, and petty judgments.  The monkey mind is quick and smart and can often lead you down a path before you even know what hit you.  We have all been there; maybe you just got a promotion or started a new job, certainly cause for celebration and joy, when the monkey mind starts talking.  "Do I really deserve this?"  "Am I really qualified?"  "What if they don't like me?"  Before we have had a chance to celebrate, we are thinking detrimental negative thoughts.  It is natural and normal, we all do it.  Our job is to learn how to quiet that little monkey and calm our mind. Then, we can be free from our own self imposed suffering and find our joy.
He is a tenacious little guy, he certainly won't go quietly, and so, where to begin?  It starts with understanding that we cannot control the world around us; we can only control our thoughts and mental attitudes.  The Sanskrit saying is:  "Mana eva manushyanam karanam bandha mokshayoho."  Which means  "As the mind, so the man; bondage or liberation are in your own mind."  The world does not make you happy or sad, only your perception of the world does.   Is it heaven or hell?   You get to choose.  You decide.   Try applying this philosophy in your daily life and you will soon see how freeing it can be.  You might be stuck in an airport waiting on a long delayed flight and start worrying about being late, getting angry and upset, maybe yelling at the gate attendant. Or you could take that delay and see it as an opportunity to have some newly found free time.  You can read a great book, call a friend you haven't had time to get back to. The flight will still be delayed, you cannot change that, it is only your perception of the situation that can change.
Think good thoughts.  With time, and practice, you can slowly begin to quiet the monkey.