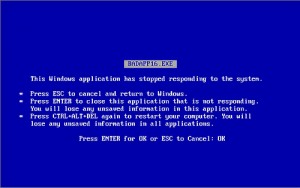 It happened. My computer crashed. Just a blue screen. On it were countless photos, music, folders, esaays, and a few pie charts and spirographs. It is one of those things that is probably inevitable in the age of fast moving technology. I should have been prepared for it. I wasn't. Although I did have a nagging feeling a few weeks ago when everything seemed to be running a little slower than usual. I thought I should back everything up, I even said it out loud, but I didn't. How much info will be able to be retrieved and what is lost I am not sure yet, I will have to wait and see.
While waiting for the result my mind immediately turns to thoughts of one of the Yamas of Yoga: Aparigraha.
There are many interpretations and applications for Aparigraha, this being one of the more literal translations; Non grasping. I may lose all my "stuff" and if so I have to let go of it. This idea of "non-attachment" can be applied to tangible objects as well as to our thoughts and ideas. If we practice Aparigraha we must carefully consider which objects and ideas we choose to hold onto. We must prioritize how our time and energy is spent. Maybe I was spending too much time on the computer, maybe there were too many thoughts tucked into too many folders. When we practice Aparigraha by letting go of something, someone, or some idea we create space for the things that are truly important. We create a space for possibility and begin to understand all that is truly important to us. The important things are those that cannot be lost. A generous heart, a kind spirit, a quiet mind.
It is not fun when a computer crashes, but really, in the overall scheme of things what is lost? Maybe it is time to simply let go of the old to make room for the new.