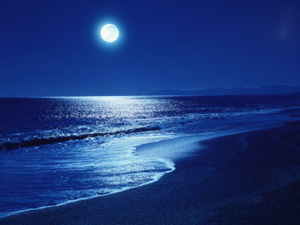 The Full Moon falls on Friday, July 15th, 2011, at 2:40 AM EDT.
The luminous full moon represents prosperity, abundance, and healing energy.
This full moon day in July is observed as the auspicious day of Guru Purnima, a day sacred to the memory of the great sage Vyasa who edited the four Vedas, wrote the 18 Puranas, the Mahabharata and the Srimad Bhagavata.
Our Gurus are to be honored and revered on this day by remembering their life and teachings.
The word Guru translated means: remover of darkness and ignorance.  In Sanskrit, "Gu" means darkness, "Ru" means remover.
Also known as Hay Moon, this day is also of great significance for farmers, as this is when the period known as Chaturmas (Four Months) begins. Farmers welcome the advent of the rainy season and the abundant life that the much needed water brings.
Drink some jasmine tea or infuse the air with jasmine oil, Jasmine has a special correlation with the moon.  It is a wonderful time to take a healing bath made with mineral salts and essential oils.
Guru Purnima is a day to illuminate our lives with knowledge; to be inspired, to overcome limitations, to recognize the abundance we are surrounded by, to be receptive to a life of wonderful possibilities.
It is a day to realize your full potential.
Celebrate and let your heart and your mind shine like the moon filled with love and gratitude.
You can find essential oil of jasmine at Nantucket Natural Oils:
https://nantucketnaturaloils.com/category.php?currentCategory=49&ProductCategoryID=50&page=4&Keywords=&StartLetter=
A lovely bath can be made with:
Masada Dead Sea mineral bath salts with lily and jasmine
http://www.amazon.com/Masada-Dead-Bath-Lily-Jasmine/dp/B0044V6LX6