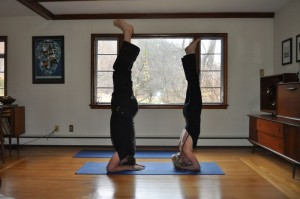 Salamba Sirsasana or Headstand is known as the King of all Yoga Poses.  The reasons are many.   It affects every system of the body: the cardiovascular, lymph, endocrine, and digestive systems. It reverses aging, increases blood flow to the brain, regulates pituitary and pineal glands, enhances circulation and creates mental clarity and calm.  It allows you to literally turn your world upside down to gain new insight by changing your perspective.
Even with all of these benefits there are times not to practice headstand: You should not practice headstand if you have high or low blood pressure, any serious eye diseases, compressed cervical disks or neck injury.
When practicing headstand take as much time as you need.   The rewards of sirsasana are so great that even if you are not ready to do the full pose, you can benefit by preparing for it.  Whether you are just starting out in hare pose or working on a full headstand, patience is the key with this posture.   Just because you floated up with ease yesterday does not mean you will today.  Honestly assess where you are physically and mentally. The strength and concentration that is required may not always be there at first.  Breathe.   Pay particular attention to the neck, there should never be any pain; pain is very different from feeling challenged.
Becoming aware of the body and knowing when you are ready to move on to the next step is very important.   Headstand requires strength in the core, neck, and upper back, open shoulders and a flexible spine. To safely and properly prepare for headstand always make sure that you are warmed up.  It is not a posture to jump right into.  A recommended length of time for staying in headstand is 10 seconds for a beginner while gradually adding 5-10 seconds and working up to 3 minutes.  Always rest in child's pose after coming down from headstand to give your body and the nervous system time to adjust to sitting right side up again.
It took me a long time to learn to do a headstand.   We all have "our thing" as I like to call it; our challenge.  Headstand was mine.  I suffered a head injury when I was 6 years old, when a lawn dart landed squarely inside the top of my head.  I had real fear of injuring myself while practicing headstand, a fear of placing any weight at all on the top of my head.   Slowly and consistently I worked.  It was a struggle initially; I found it difficult to breathe and I could only stay put for a few seconds.  All the talk of core strength seemed to go out the window.  When I made the move to try to lift my feet off the ground for the first time it seemed that I had none at all.  Every day I found time in my practice to devote to letting go of the fear.  And then one day it happened, I just floated up.  It wasn't magic by any means, but a combination of consistent practice and determination.  Now, it is a joy to see the same thing happen with students who thought that standing on their head would never be possible.
If you are working on headstand go easy on yourself.  It may take months or even years to accomplish. It is the journey not the destination that is important here.  Be consistent with your practice and patient with your self and soon you will be embracing The King of all poses.