Sometimes practicing in silence is just perfect. Sometimes you want a little music. A little inspiration. A little elevation. It is difficult to pick a favorite, so I won't. I will just say that the following CD's are favorites of this moment, in heavy rotation in and out of the studio. Music has the ability to transform and inform. The vibration of these songs, these chants, these musicians is pure and powerful.
Masood Ali Khan The Yoga Sessions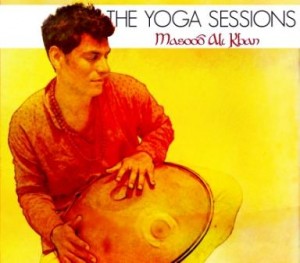 "With his heart in a pure place of Bhakti, Masood composes and performs his music with the greater intention of helping humanity. He creates storytelling compositions with captivating melodies to inspire the spiritual being within the human. This record features Masood's mastery of the enchanting new percussive instrument, the Hang (pronounced "Hung"). The Hang looks like a flying saucer, and indeed sounds like it is from another solar system. With its ethereal resonating overtones and a harmonic minor scale it is an instrument of relaxation, joy and hope.
Combining the power of the heart and mind's healing potential for humanity, Masood's Hang becomes a medium, transferring positive intentions within the sound vibrations of the recordings. The listener senses this and feelings of love, creativity, passion and compassion come alive within them."
For a listen go to: http://itunes.apple.com/us/album/bhakti-gita/id322480810?i=322481019&ign-mpt=uo%3D4
Jai Uttal and Ben Leinbach Music for Yoga and Other Joys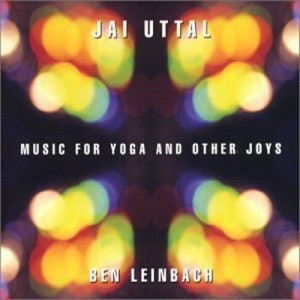 "Jai Uttal, a veteran of world fusion going back 15 years and a devotee of kirtan singing teaming up with multi-instrumentalist Ben Leinbach for a series of extended improvisations. Leinbach creates a shifting back drop of chilled, Indian-derived grooves and textures like liquid mercury dipped in a fractal swirl. It's a perfect modal backdrop for Uttal, who improvises freely on an Indian stringed instrument called the dotar, electric guitar, and even banjo. Pieces like the 26-minute "Govinda" extend in a free fall until a rhythm loop drops in. Uttal swaps to a fuzzed out electric guitar solo that eventually merges into an improvised kirtan, his voice coiling in note-bending spirals like soul singing from the east. This may be music for yoga, but it's the other joys that will keep you coming back."
For a listen go to: http://itunes.apple.com/us/album/surya/id41446322?i=41446320&ign-mpt=uo%3D4