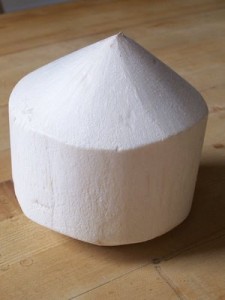 The young thai coconut is one of my favorite things to eat.   In Sanskrit, the coconut palm is known as kalpa vriksha, meaning "tree which gives all that is necessary for living"   Both the liquid and the meat inside are very different from a traditional brown skinned mature coconut.  The liquid is almost clear with a faint scent of almonds and the meat can vary from thin and soft  to a thicker meatier texture. Coconut meat is an excellent source of medium chain fatty acids, protein, fiber, vitamins, and minerals. Fresh coconut water contains lauric acid, b vitamins, potassium, and electrolytes. Eating a coconut can prevent heart disease and lower cholesterol.  It can instantly rejuvenate you when you are feeling dehydrated.
Where to find them?  That can be the tricky part.  If you live in a city you are in luck as they are readily available in any Asian market. Whole Foods and Fresh Direct are now carrying Young Thai Coconuts every day in the produce section.  Most major grocery stores can order them for you if you ask.  You can also order on line, but the shipping cost due to the weight of the coconuts makes ordering this way extremely expensive.
Do something wonderful for your health, drink fresh, delicious coconut water.  Use the meat in smoothies instead of dairy or soy for a rich creamy consistency.  Seek them out, it is worth the effort.  Happy coconut hunting!