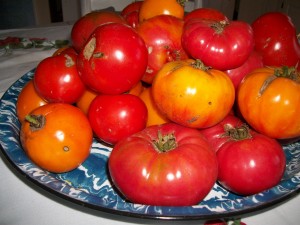 On Saturday, Bartlett's Farm held pick your own tomatoes day. It was a little slice of heaven walking through the fields, canvas bags in tow, and filling them to the brim with all the delicious varieties.   At only one dollar per pound, it was the deal of the season.  Walking up and down the rows, I was mesmerized by the colors, the ripeness, the abundance.  Our fellow pickers were smiling and happy, sharing ideas and recipes.  It was a true example of the joy that can be found in the simple moments of the everyday.
Now what to do with 17 pounds of tomatoes?  First, share a few with friends, then get to work preserving the last taste of summer.
Tomatoes are full of wonderful vitamins and minerals. Vitamins A, B1, B2, B6, C, E, K, niacin, and folate.  Potassium, phosphorous, magnesium, calcium, sodium, iron, manganese, copper, zinc, and chromium. Various studies have shown that the lycopene in tomatoes can help reduce chances of prostate cancer, stomach cancer and colorectal cancer. Lycopene is considered a "miracle" anti-oxidant that may help to stop the growth of cancer cells.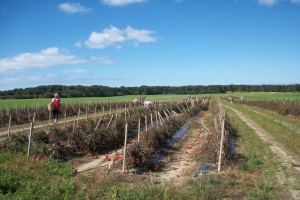 Dehydrating tomatoes is a great way to preserve them without a lot of messy work. Once they are dried, you can reconstitute them by soaking them in some hot water.  The flavor is rich and concentrated as a tomato paste would be. If you don't have a dehydrator you can dry them in the oven at the lowest setting.
Dehydrated Tomatoes
Slice tomatoes about ¼ of an inch thick
Lightly sprinkle with sea salt
Place on dehydrator trays so that they do not touch.
Set dehydrator to 135 – 140 degrees (the temperature of the tomatoes will remain below 118 degrees)
Dehydrate for approximately 12 hours.
You can store them in a cool dark place in an air tight container for 6-9 months, or in an airtight container in the freezer for up to one year.

2 large tomatoes
½ cucumber
1 celery stalk
1/3 bunch of parsley
½ lemon peeled
1 tablespoon of freshly grated horseradish
Pinch of sea salt
Water as needed

Oven option:

Place tomato slices in a single layer on a baking sheet.  Set oven to 200 degrees, Allow the tomatoes to dry in the oven about 8 hours or until they become shriveled, checking frequently during the last couple of hours to ensure that they don't scorch.  Cracking the oven door open can help prevent the heat from getting to high.

The easiest fresh tomato juice can be made in a Vita Mix or other high speed blender.  No scoring, no peeling, no boiling, no waste just fresh delicious juice!

Joann's Veggie Mary

(You can substitute ½ of a fresh jalapeño or a pinch of cayenne powder for heat)
Puree all ingredients in blender.  Serve with cucumber stalk.