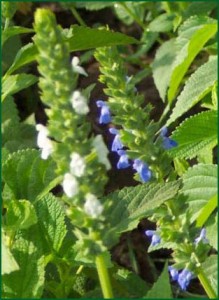 Chia seed is an ancient superfood.   It is a member of the mint family: Salvia Hispanica. The little seeds were once a staple of the Incan, Mayan and Aztec cultures, along with the Native Americans of the southwest.  Chia is actually the Mayan word for strength. The seeds were used by these ancient cultures as energy food, especially for their running messengers.  In the southwest United States chia seeds became known as "Indian running food."
Chia seeds are an excellent source of dense nutrition with their healthy omega oils, easily digestible protein, and antioxidants. In fact, chia is so high in essential fatty acids that it contains eight times more omega-3s than salmon.  They are also full of dietary fiber, vitamins, and minerals. Research has linked this valuable food as being beneficial for many health issues, including diabetes, hypoglycemia, celiac disease, and lowering cholesterol.
Chia Seeds are a complete protein with all 9 amino-acids.
Chia is the richest non-marine whole food source of Omega-3 and dietary fiber currently known to man.
They have six times more calcium than milk, plus boron which is a trace mineral that helps transfer calcium into your bones.
They contain greater amounts of high-quality protein than found in soy.
Chia seeds work like an incredible digestive broom, sweeping through your intestinal tract, helping to remove toxins and eliminating old accumulated waste in the intestines.
They have 2 times the amount of potassium as bananas
They have 3 times more antioxidant activity than blueberries.
They have 3 times more iron than spinach, which is needed to carry oxygen from the lungs into the muscles and organs
Chia´s high fiber content and its ability to reduce blood sugar levels after meals inhibits the appetite making it a perfect food for effective weight loss.
They improve endurance by keeping the body hydrated and the electrolytes balanced, making them a perfect food for athletes.
In fact, Chia seeds are a perfect food for everyone.  But how do you begin to incorporate these magical little seeds into our diet?  The easiest way would be to start sprinkling them on your next salad.  They have no flavor on their own and take on the flavor of whatever they are added to.  Another great way to enjoy chia seeds is in your next morning smoothie.  Get in the habit of having some prepared chia gel in the fridge.  Prepared chia gel lasts about 1 week in the fridge.  Add 2 or 3 tablespoons into the blender with your favorite recipe.
Get creative!  Think chia jams and jellies, chia pops and puddings.  And then get consistent. Get in the habit of incorporating this super food into your diet, and embrace the strength of the ancient seed.
Basic Chia Gel
2 tablespoons of chia seeds
1 cup of water
Add water to chia seeds and mix well.  Let stand for 15 minutes then stir again,  then let stand for 15 minutes more.
That's it.  You now have chia gel.  Enjoy!